STATEN ISLAND, N.Y. — "Do you believe in clairvoyants? "
The first question that Linda Vinciguerra asked me when I strayed into Linda Lingerie — her boutique on Staten Island's New Dorp Avenue, where the people tend to be as straightforward as the names of their small businesses — was an unexpected one.
"I don't know, " I answered. "Why? "
Vinciguerra's eyes lit up. She does believes in clairvoyants, she told me — so much so that she regularly invites a woman with clairvoyant powers to set up in her store, where the woman charges $80 an hour for one-on-one readings with local proprietors and customers.
But Vinciguerra was having a crisis of confidence. During a recent conference, she explained, she'd received some bad news from the psychic.
"I said,' Tell me about Donald Trump. Will he win? '" Vinciguerra recalled in her strong Noo Yawk accent, gesticulating with her hands for emphasis.
The short answer was a distinct "no." Worse yet, the clairvoyant added, the next president would be Hillary Clinton. However, the silver lining in all this was that a defeated Trump would launch an investigation into voting irregularities, the outcome of which was uncertain.
When she first received this news from the future, Vinciguerra was depressed. The psychic had been right about so much in the past that it was hard for her to continue supporting Trump knowing that he would lose the election.
But with Trump scheduled to appear on Staten Island this Sunday for a local Republican Party brunch and fundraiser, Vinciguerra is hoping she'll have the chance to sound the alarm directly.
"I want to relay the message to Donald to make sure he has someone who can check to see that the polls aren't rigged, " she said.
Vinciguerra said that most of the people she knows on Staten Island are avid Trump supporters like her, even if some of them are somewhat concerned that "he'll start World War III because of his mouth."
She acknowledges that Trump is a bully but admires that he's not a coward and believes he'll assist small businesses like Linda Lingerie to prosper.
"I only believe he will turn this country around, " Vinciguerra said. "We are Staten Islanders. We believe in the American dream."
One of the last remaining Republican strongholds in New York City, Staten Island is poised to add its vote to what is expected to be a massive statewide victory for Trump in Tuesday's New York primary.
Sometimes it takes a little crazy to make it happen. Staten Island optician Sergio Plisetsky on why he supports Trump
As The Washington Post's Phil Rucker reported via a vivacious series of conversations aboard the Staten Island Ferry, support for Trump among people who live on the island and commute to work in Manhattan operates deep.
During a recent weekday afternoon on Staten Island, where most residents of this unique slice of semi-suburbia also expend their working hours, signs of Trump's passionate backers were perhaps even more pronounced.
Yes, the billionaire real estate tycoon learned how to run a business in Queens and built his own real estate empire in Manhattan. But if Trump were a borough, he'd be Staten Island.
His unapologetically contentious, me-against-the-world approach to business and life — as well as his peculiar combination of disdain for and veneration of the culture and political upper-class who live on that skyscraper-laden borough across the river — is altogether in keeping with Staten Island's ethos.
This is, after all, the place where voters in 2014 re-elected Michael Grimm, who is now serving time in federal prison, even though he was then under indictment and had recently been caught on camera threatening to hurl a reporter off a balcony. On Staten Island, a politician's intemperate stance is often an asset, rather than a deal-breaker.
A few doors down from Linda Lingerie is Z Optical. Sergio Plisetsky, owned and licensed optician, walked with me as he smoked a cigarette.
Plisetsky, like Vinciguerra, is not a matter to mince words.
"The way I feel with the economy in the United States and the position we're in right now, I think we're fucked, " he said.
Clad in black shoes, black pants, black shirt and black blazer with his eyes hidden behind a pair of black sunglasses, Plisetsky recognise the concerns about Trump's temperament and his penchant for offending just about every group in America at one time or another. But part of the reason why Plisetsky likes Trump is that "sometimes it takes a little crazy to make it happen." He added, "I'm a little aggressive myself."
Plisetsky was particularly effusive in his kudo for Trump's protectionist instincts, without noting where some of the candidate's own branded productsare actually made.
"You want to make this country great? Then buy a fucking American product, " he told. "There's no need to order from China."
Plisetsky, who immigrated to the United States from the Soviet Union in 1979, said that he also appreciated Trump's call to build a wall along the Mexican perimeter and, in general, to keep out immigrants deemed to be undesirable or dangerous.
"This country was built on immigrants, but it was built on immigrants that are Italian, Jewish, Irish, you know what I mean? " he told, taking another drag from his cigarette. "Not people who want to destroy and bomb the country. That's different immigrants. So as far as that, I'm down with him."
People on the island are a no-nonsense people . … Some people don't like that. Me personally? I'd like to see Trump and Christie. Two no-nonsense guys. Staten Island car dealer Nick Longo
There has been scant public polling to demonstrate just how strong Trump's support here is, but local political commentators agree that Staten Island might very well hand him one of the largest margins of victory in the country. Additionally, while merely registered Republicans are permitted to vote in New York's closed GOP primary, Trump's appeal in this particular borough appears to cross ideological lines.
"I have some anecdotal evidence that shows Democrats here supporting him, " told Staten Island Democratic political strategist Roy Moskowitz, who is backing Clinton.
Nick Longo, who runs the pre-owned department at the local Chevrolet dealership, acknowledged that President obama had "walked into a shit storm" upon taking office and was "not a bad president" overall. He added that he is not an ideological person and has supported candidates from both parties. But Longo is now fully committed to backing Trump.
Longo's daughter was analyzing in Paris during the course of its November terrorist attacks, he said, and he appreciated the way the French government "did what they had to do" in making arrests afterward, without apology or approval-seeking from other nations.
He also echoed the oft-repeated praise that Trump "isn't afraid to say what he thinks" and also singled out the billionaire's business acumen as a commendable trait in a potential president.
"Being in the business that I'm in, this was king at a time, and now people can't even afford insurance, let alone a vehicle, " Longo told. "People on the island are a no-nonsense people. They are who they are, and they're going to speak their intellects. Some people don't like that. Me personally? I'd like to see Trump and[ New Jersey Gov. Chris] Christie. Two no-nonsense guys."
A no-nonsense guy for a no-nonsense place — that's the image that has resonated so effectively for Trump in blue-collar enclaves across America during the GOP primary season. But here on Staten Island, his appeal is perhaps more personal than it is elsewhere.
Trump has visited the borough regularly for decades. He are applied to tag along with his father, Fred, during visits to the midrise apartment complexes his papa owned on Staten Island, which stood out in a place where single-family homes dominate the landscape.( Trump took over management of the properties after his father's death and subsequently sold them .)
Among Trump's prominent Staten Island endorsers expected to be on hand for Sunday's brunch are New York City Councilman Joe Borelli, former Councilman Vincent Ignizio, New York State Assembly candidate Ron Castorina and Staten Island GOP Chair John Antoniello.
Antoniello said that he expected the turnout to be "phenomenal."
"He's resonated with a lot of people here, " Antoniello added. "He tells it because this is. Sometimes it's unfiltered, but that's the route he is."
I think theres all this political correctness out there, and everyone has this namby-pamby attitude. Staten Island management consultant Janine Materna
It's an attitude that Janine Materna, too, appreciates.
Materna is a business management consultant, local activist, and former NYC Council candidate who switched her party affiliation from Democrat to Republican in 2012. An active Trump supporter and part-time campaign volunteer, she predicted that he would win Staten Island by "a very, very large margin, " in part due to the aspirational image that appeals to so many people here with their own big dreams.
"I believe his ability to manage a company of his sizing is something admirable, especially in Staten Island, because we have a high rate of people who own small and medium-sized companies, " she said. "People look up to him as a business leader."
There can be little doubt that Trump's business background is a key element of his attractiveness to Staten Islanders. But after I pressed her a little bit on whether there was something more visceral about Trump's appeal, Materna invoked an approach to life that pervades this island.
"I think there's all this political correctness out there, and everyone has this namby-pamby attitude, " she said.
And then, Materna recurred the unofficial mantra for Trump supporters — a contention that while objectively imprecise, seems to have outstripped "Make America Great Again" in his strongholds.
"People here like someone who tells it the way it is, " she said.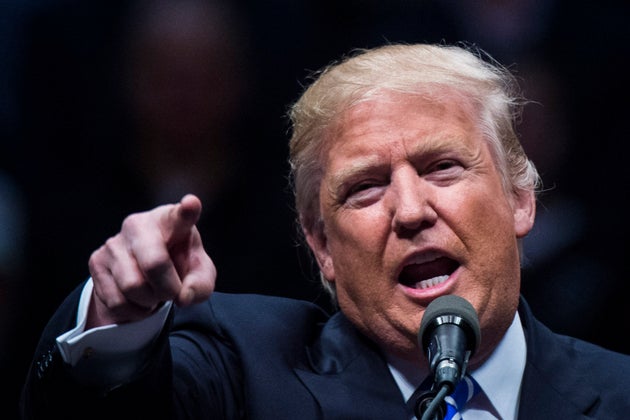 Read more: www.huffingtonpost.com